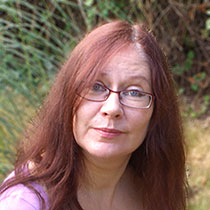 Today, KARI SPERRING answers questions set by the editors of The Alchemy Press Book of Ancient Wonders.
Tell us a little about yourself, and what you like to write?
I'm a mediaeval historian (specialising in Celts) by training and a writer by instinct – I started writing aged seven and I haven't stopped since. I love swashbucklers, ancient mysteries, things and people who are not what they seem, complex worlds and intrigue, which get into everything I write. As does water; I can't account for that, but most of what I write ends up with water as a key element.
If the TARDIS could drop you off to any one site in its heyday, where would you go?
Oh, goodness, that's hard ... I don't know. Maybe the court of Louis XIII or Louis XIV: I'd love to meet the real d'Artagnan, Athos, Porthos and Aramis.
What appeals to you most about ancient sites/landscapes?
That sense that the past is still there, immanent in every stone and that we are all part of the flow of history.
What do you have coming out next?
I have a sequel to The Grass King's Concubine due from DAW, probably next year. It has no final title as yet, but the working title is Death and the Madwoman
[
Kari Sperring
grew up dreaming of joining the musketeers and saving France, only to find they'd been disbanded in 1776. Disappointed, she became a historian and as Kari Maund published six books and many articles on Celtic and Viking history, plus one on the background to favourite novel,
The Three Musketeers
(with Phil Nanson). She started writing fantasy in her teens, inspired by Tolkien, Dumas and Mallory. She is the author of two novels,
Living with Ghosts
(DAW 2009), which won the 2010 Sydney J Bounds Award, was shortlisted for the William L Crawford Award and made the Tiptree Award Honours' List; and
The Grass King's Concubine
(DAW 2012).]